Today's post is nothing earth shattering but I wanted to just share how something so simple can help you as you create and save time. The other day I received these four wonderful decade stamps by October Afternoon.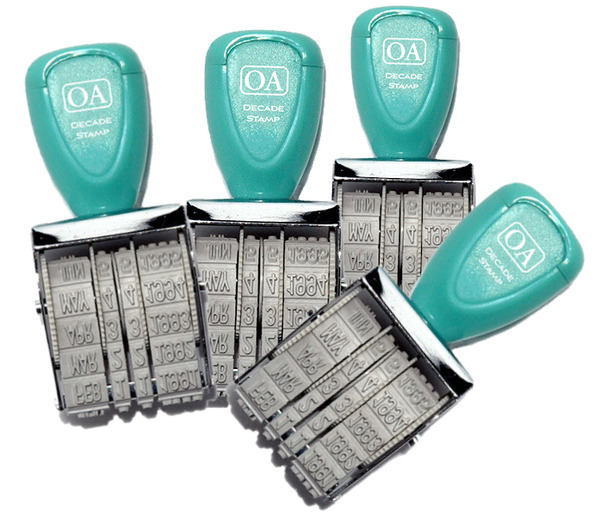 The stamps cover the 1980s, 1990s, 2000s, and 2010s. Love that. But if you look at the image above, can you determine which decade each roller stamp belongs to? Probably not unless you look very closely. And if you have "almost 50" year old eyes like I do, then it's really hard to quickly determine which roller stamp you want to use.
So, here comes my Brother P-Touch labeler to the rescue! For these roller stamps, I just printed labels on the clear tape with each decade on the labels. I then put the appropriate label on each handle. This now makes it very easy for me to grab the correct roller stamp without taking time to remove each one from my storage tray and try to read the numbers on the stamp itself. That would just frustrate me. I could have put the labels on the top of the handle too but I think this is going to work nicely for me just like this.
I use my labeler for everything. Another great use is for punches. I love to label my punches the same way with the name of the punch. That way when I provide product links or names, I know exactly which punch I used. Other ways I have used my labeler in my studio are to:
*Label punches
*Label stamp ink pads
*Label embossing folders
*On dividers
*Stamp storage panels
*Etc.
I have even used it around the house. For instance, we have a light switch that I do not want turned off. So, I used the labeler with clear tape to label that switch. It says "Do not turn off." It's on a panel with four switches so it could easily be turned off if it wasn't labeled. I truly use it everywhere for so many things. The kids even use it for college! So, if you don't have a good labeler, you might want to put it on your Christmas wish list along with these awesome date stamps! Thanks for stopping by!
Product List
(
click product tags for more info
)
View blog post for supplies