Today I thought we would talk about creating text blocks. Angela posted this comment on
Sunday's post
:
"
I love how you do the text blocks. Do you print each word out as you need them or do you keep a stash of suitable words in different styles and fonts?
"
First, I do not keep a stash of words. I basically find them or create them as I create my page. And to help give you an idea of how I create them, I thought I would share a few ideas with you. Let's get started.
Letter Stickers
I use letter stickers a lot. I almost always stick them to a piece of paper first so that I can either stitch on them (as I did with the word 'witness'), make sure the spacing is correct, or even cut them down. I did cut down each sticker in the word 'humility'. It was too wide to fit in the margin so I cut down the letters to make them thinner. There is almost always a wide margin on letter stickers so it's easy to change their size. You can also create fun backgrounds for your words by sticking them to a piece of paper first. You can see what I did differently with the word 'me' below.
Stamps
I use stamps on every single
Journaling Bible
page. I have several sets that are my "go to" sets that I love. Again, I generally stamp on another piece of paper first so I can stitch or create a fun background. I also use tickets. They are really fun to use on pages.
Some of my favorite alpha stamp sets that I use are the following sets:
*Upper and Lowercase Alpha sets from etsy.com. There are many sellers that have these sets.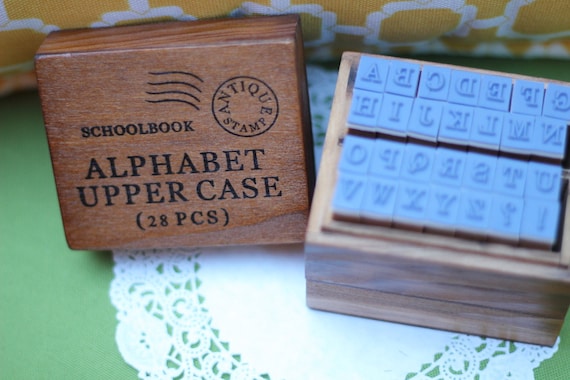 *Provo Craft Rolling Stamp sets. I have had these for many, many years but I am sure you can find them on eBay or various places.
Typewriter
I have a 1960's Smith-Corona typewriter that sits on my craft table. I just love it, and I use it a lot. I type on everything from deli paper, hymn paper, ledger paper, stickers (see how I typed the word 'blotted out' on the tag sticker below), or anything else I can find. I do use Judikins Microglaze once I type the letters so that it becomes waterproof. For more information, see my link about Microglaze below.
Helpful Links
I have posted about how I have specifically created some of these text boxes. I will link them here if you want to see those posts also.
*
Envelopes
—
See how I stamped the word '
trust
' in
this post here
about using envelopes for texture.
*
Deli Paper
—
See how I stamped the word '
wait
' on deli paper in
this post here
. Deli paper makes a great hidden background.
Other Products
There are plenty of word and alpha stickers available on the market. I will link what I can at the bottom of this post. Some of my favorites are:
*
Tim Holtz Chit Chat Stickers
—
I almost always outline these for fun.
*
My Mind's Eye Tiny Alpha Stickers
—
They have many colors and varieties. I keep all colors on hand and use them a lot. They also have a few words available in each set.
*
Simple Stories Alpha Stickers
—
More great letter stickers that come in a lot of colors and work great for
Journaling Bible
pages. I used these stickers for the word '
Christ
' above.
*
Papers Used
—
I use old book paper, deli paper, newsprint paper, hymn paper, etc. to add letters, typing, and stamping.
I hope you have found this post helpful. Have fun finding ways to create unique text boxes for your pages. Enjoy, and thanks for stopping by!
Product List (click product tags for more information)
View blog post for supplies